I was searching for new colours comb and finally I found
whitebearaccessories
on Etsy shop which have creative hand painted lace & beaded jewelry and accessories. Her shop full of colorful inspiration
I found the inspiration this time (in her Green collection)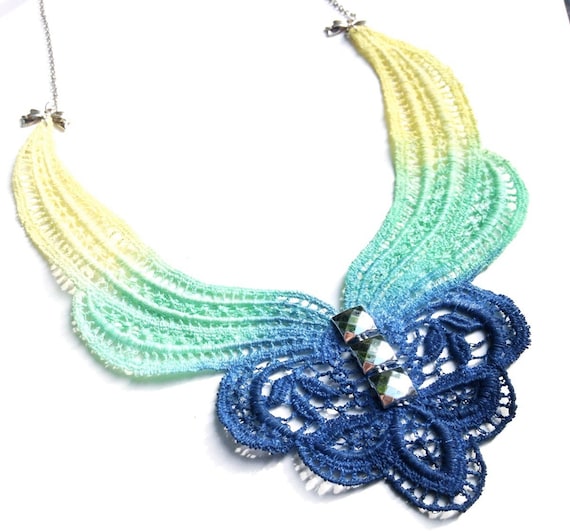 I loved this Lace Yellow Mint Green Navy Blue Hombre with Studs Necklace it would be great to fit it with white or black short dress with black high heel
Now Lets start :- )
1. After applying urban decay potion and lose powder under the eye to keep the fallen shadow away from sticking on the foundation .I used my shimmery palette
Golden ladies No.12
Start with the deep blue on the upper and lower eyelid .
2. On the eye crease apply the light blue the light green then lemon green as shown on no. 2, 3 & 4.
3. Apply the highlighter under the eyebrow (I used yellow pearly highlight) from the palette and shape the eyebrow and blend them together. A touch off black (Carbon) from Ben Nye on the outer eye V corner with soft blending, I used (
Real techniques brushes
Starter set) which give a great finish
4. Remove the lose powder apply the mascara and we are done.
What a lovely colors, aren't they?
On lip : I wore Pure colour -crystal lipstick