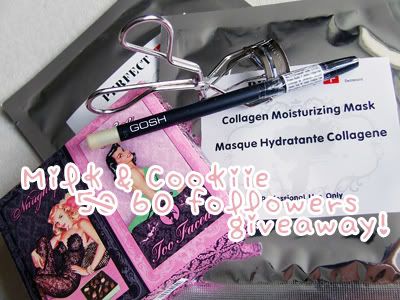 Rules.
1. You have to be a follower of our blog.
This contest is a way for us to thank our followers so naturally, you would have to be one in order to join. It does not matter whether you're a new or old follower anyone can join in on the fun.
2. Please post a link to this contest on your blog (if you have one of course). The more the merrier right? :D
3. We will ship to anywhere in the world so don't hesitate to join!
4. Do NOT post your answers in the comment box. We will delete all comments with answers and thus the entry will not be valid.
Please e-mail the answers including your username and a link to your blog (if you have one) to milkncookiie@gmail.com.
5. The deadline is December 1st.